Visit us at our dive centre in Willenhall!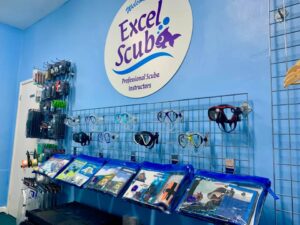 Our address is:
Willenhall E-ACT Academy
Furzebank Way,
Willenhall,
WV12 4BD
Dive Centre Tel:
Kerry: 07391226575
Matt: 07964588432
Alternatively, if you have any dive queries or questions then please do not hesitate to contact us, use the form below or email us on training@excelscuba.co.uk and we will be happy to answer any questions you may have.
Want more information on our courses or do you need dive equipment advice? Then just complete the below form and press submit.
Our friendly staff and instructors are here to help and will do what they can to answer your dive related questions.
Our opening times for summer are:  
 Our opening times for winter are:
Mon – 08:30am – 6:30pm
Tue –  08:30am – 6:30pm
Wed – 08:30am – 6:30pm
Thu –  08:30am – 6:30pm
Fri –    09:00am – 10:00pm
Sat –   09:00am – 5:30pm
Sun –  09:00am – 5:30pm
Mon – 10:00am – 6:30pm
Tue –  10:00am – 6:30pm
Wed – 10:00am – 6:30pm
Thu –  10:00am – 6:00pm
Fri –    09:00am – 10:00pm
Sat –   09:00am – 5:30pm
Sun –  09:00am – 5:30pm